Probably the most famous Oberlin is John Frederick, the Alsace minister and namesake of Oberlin College; Oberlin, Ohio; Oberlin, Kansas; Oberlin, Louisiana; Glacier National Park's Mount Oberlin; historic Oberlin Village in Raleigh, NC; and several places in and around Strasbourg, France.
Johann Friedrich Oberlin* was a Lutheran clergyman and philanthropist who established a ministry in Alsace, a historic region of northeastern France. The second son of Johann Georg Oberlin and Marie-Madeleine Feltz, he was born in Strasbourg, August 31, 1740 and, like his father, educated at the Strasbourg University. His initial interest was in becoming a soldier. After a brief service as chaplain in the French army, in 1767 he became pastor at Ban-de-la-Roche where he spent the rest of his long life in labor for the material and spiritual improvement of his impoverished parishioners. He practiced medicine among them, founded a savings and loan bank, introduced cotton milling, helped the people build better roads, and brought in modern agricultural methods. Orphan asylums established by "Papa Oberlin" were the beginning of the many "Oberlinvereine" for the protection of children. He was a man of rare spirituality, being frequently styled "a saint of the Protestant Church." Each month he preached three sermons in French and one in German. In 1819, he was appointed "Knight of the Ehrenlegion" by King Ludwig XVIII. Johann Friedrich died, June 1, 1826, in either Walderbach, Bavaria or Ban-de-la-Roche, where he is buried. Oberlin College was named in his honor.
In his 1906 publication Memorials of the Huguenots in America Reverand A. Stapleton wrote: "The Oberlins were distinguished in the history of France, notably the Reformer of Ban-de-la-Roche (Johann Friedrich Oberlin), who was a relative of the Pennsylvania Oberlins." According to an excerpt from his memoirs, in the early part of his ministry, Johann Friedrich was determined to go to Pennsylvania. The American Revolution interfered with this desire and he never made the trip.
*Johann Friedrich was his recorded name at birth. The French refer to him as Jean Frederic. Anglicized, his name often appears as John Frederick.
U.S. Navy Captain Edgar Garfield Oberlin, veteran of the Spanish-American War, graduated from the U.S. Naval Academy (1905) and served as commander of the Philadelphia Navy Yard during World War I. Captain Oberlin was the first military commander of the Naval Research Laboratory established in 1923 with contributions from Thomas Edison. Oberlin Lake, at Indiana's Crane Navel Depot, is named after Captain Oberlin.
As a Lieutenant, Edgar Garfield Oberlin served in Haiti 1915 – 1916, under the direction of Admiral W.B. Caperton. During his Haitian service, Edgar directed an international committee engaged in alleviating the suffering of the starving poor at Port au Prince with funds provided by the American Red Cross Society. He was later appointed as one of the engineers to supervise and direct the sanitary service and the public works projects in Haiti.
Edgar was from Massillon, Ohio and is descended from Revolutionary War Captain, Michael Oberlin, brother of Adam.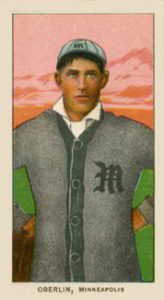 A descendant of patriot Adam Oberlin's brother, Jacob (b1747), Frank Rufus "Flossie" Oberlin was a Major League Baseball pitcher 1902-1916. Frank was born 29 March 1876, in Elsie, Michigan, the son of George and Harriet (Mountz) Oberlin. Frank did not play professionally until age 26, when he joined the minor league Lansing Senators of the Michigan State League in 1902. He played for the Milwaukee Brewers in 1906, before being acquired by the Boston Americans, where he made his major league debut in September.  For a period of time during the 1920s, Frank managed a baseball team in Roswell, NM.
Upon retiring from baseball, Frank made a living as an electrician, truck driver and laborer in and around Steuben County, Indiana.  He was nicknamed "Flossie" due to his appreciation for embroidery, and expertise in fancy needle work.
Frank's mother's family, Mountz, was prominent in the Butler, Indiana area. Harriet's cousins Ettie and Socrates built two prominent houses on Main Street which were later owned and occupied by Glenn and Geneva Oberlin. Frank Oberlin died 6 January 1952 in Ashley, Indiana. He's buried in Hamilton, Indiana.
Both of my paternal grandparents, Glenn Oberlin and Geneva Hagerty, are descended from Pieter Claesen Wyckoff, an early resident of Long Island. Pieter was a judge and personal assistant to Pieter Stuyvesant. The Wyckoff House Museum is the oldest building in New York City, and perhaps the oldest surviving frame structure in the United States.
Through this Wyckoff line, Glenn and Geneva are also descended from Jan Jansen van Salee, commonly known as "Murat Reis" the Barbary pirate. Jan Jansen's son, Anthony, owned the land north of Wall Street where the Brooklyn Bridge now sits. Jackie Kennedy Onasis, Humphey Bogart and the Vanderbilt's are also descended from Anthony van Salee. Dr. John van Salee De Grasse, born in 1825, served as surgeon to the celebrated 54th Massachusetts Infantry during the Civil War. (Eight men from Oberlin, Ohio also served in the 54th Massachusetts.)
Robert Bruce, the first king of Scotland, characterized in the motion picture, "Bravehart," is another ancestor through this Wyckoff branch. Orville and Wilbur Wright are also descended from Pieter Claesen Wyckoff.